How to get to the conference venue?
Transportation from Bangkok's Suvarnabhumi Airport to the conference venue, the Montien Hotel Pattaya, is quite convenient. 
Arrival passengers may find the way of transportation to any destination at the airport information center. There are 10 information service counters situated at:
Passenger Terminal
- Departure Hall on the 4th Floor by Gate 3 and Gates 5-6
- Arrival Hall on the 2nd Floor at the Gates 3-4 and Gates 7-8
Concourse Building
- Arrival Passenger Hold Rooms on the 2nd Floor, intersection between concourse buildings A and B
By Bus
It is convenient to get a bus directly from Bangkok's Suvarnabhumi Airport to Pattaya. 24 hour public bus service is provides from the Bus Terminal at the Transport Center. Take a shuttle bus (Express route) to the Transport Center).

From Suvarnabhumi Airport there are busses (ie., Bus Number 389) that leave directly to Pattaya from the airport's Transport Center, which is served by a complimentary shuttle bus that circles the airport. From the arrivals hall on Level 2, go down to Level 1 and walk towards door number 8. There is a counter inside the building which sells a ticket on the air-conditioned government bus service to Pattaya.  These air conditioned buses leave every couple of hours, cost just over 100 baht, and arrive at the North Pattaya Road bus station about 1 ½ hours later.

Bell Transport Company

This is a private company which provides the service under license from the government. Bell Travel Service offer safe, comfortable and efficient direct transfers from a variety of pick-up and drop-off destinations between Pattaya and Bangkok. Look for the sign with 'Bell Travel Service' which is located on Level 1, door number 8 very close to the government bus counter. The fare is about 250 Baht (price checked on August 2013) but this includes drop-off (via mini-bus) to the Montien Hotel Pattaya or any hotel in Pattaya. More details on the Bell Travel website  (www.belltravelservice.com).
By Taxi
Public taxi stand is located on Level 1 (Ground Level) near entrances 3, 4, 7 and 8. Taxi fare depends on the meter charge plus 50 baht airport surcharge and expressway fees (if available). However, passengers may ask for the fixed rate at the Contact Taxi Counter and for the service of door to door (from the airport to the front gate of the Montien Hotel Pattaya). A public taxi may cost around 1,500 Baht or more.
By Limousine
To get a limousine contact the "Limousine Service Counter" at the Arrivals level (2nd floor). Limousine fare is at the set rates. An official AOT (Airports of Thailand) limousine service to Pattaya will set you back around 3,000 – 3.500 Baht. Kiosks are available from inside the terminal building near baggage reclaim and again as you enter the arrivals hall. For further information, please see www.bangkoklime.org.


---

Transportation Around Pattaya
There are plenty of ways to getting around pattaya.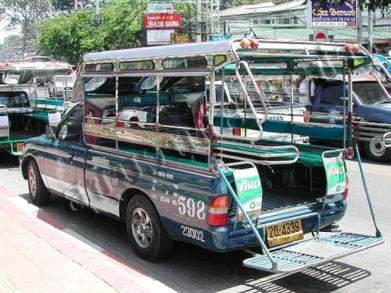 By Songtaew:

Hands down the kings of Pattaya public transportation are the dark blue songtaews, which are the pickup-trucks with benches in the rear. Most songtaews follow established routes and passengers can hop on and off wherever they choose for a fixed rate (typically higher for foreigners). If a songtaew is not parked or is devoid of passengers it may be hired as a private vehicle at considerably higher rates.

The most common songtaew route in Pattaya is the beach circuit that follows Second Road to the Dolphin Circle roundabout and then south along the full length of Beach Road, connecting the loop by traveling east along South Pattaya Road.

Be sure to tell a songtaew driver where you're headed so as to be sure he's headed that way, but also ask how much the fare is so that you aren't charged for a private hire. Stating the typical fare is usually more effective than asking an open ended question, provided you know what the one way fares currently are.

By local bus:

A government sponsored public bus system with established rates of 20 baht/trip, 90 baht/day, 180 baht/3-day, and 900 baht/month provides limited service around Pattaya. Many bus-stop signs indicate bus stops that are no longer in use. Brochures with details of the routes/stops are available from bus drivers.

By motorbike taxi:

Less expensive, faster, and far more dangerous than songtaews, motorbike-taxis are located at various intersections throughout Pattaya, although they can be flagged down while they are driving. Motorbike taxi drivers are easily identified by their colored vests. Foreigners can expect to pay around 30-40 baht for trips around Pattaya Beach.

By taxi:

Meter-taxis from Bangkok are common in and around Pattaya, all of which are looking to make some extra money after dropping off passengers from Bangkok. These are fine for trips around town, but if you are looking for a car and driver for a day trip outside of Pattaya Beach it may be better to charter a private car and driver, a non-metered taxi, or a minibus that operates on an on-call basis. These can be arranged through most travel agencies and many hotels and guesthouses.

Car Rental:

There are opportunities to rent cars from both local and international car rental agencies in Pattaya. Be aware however, that for insurance purposes it may be required to have a valid international driver's license, though most nations' drivers' licenses are sufficient to legally drive in Thailand.

Car rentals without insurance are possible for as little as 600 baht/day for Suzuki Samurai style jeeps and 800 baht/day for small cars; rental cars that include insurance cost around 1000 baht/day, slightly less in the low season, more in the high season.

Commercial First Class Insurance provides full coverage (as opposed to limited personal or third party only insurance). Most international car rental agencies will offer this insurance (some only for those with international driver's licenses) while local companies may or may not. You can request a copy of their insurance policy and ensure that it states "For Commercial Use". Regardless, inspect rental vehicles prior to rental and drive with caution, particularly as traffic in Pattaya can be quite confusing, including the habit of motorcycles to drive on the wrong side of the road.

Rental Motorbikes:

Motorcycle rentals are a very popular, if dangerous way to get around Pattaya. In addition to the risk of injury (a frequent result for foreigners unaccustomed to riding motorbikes or to driving on the left hand side of the road) there are occasionally scams involving rental motorbikes as well as bag snatchings from baskets in the front of rental motorbikes. As you must typically leave your passport as a deposit for a motorbike it is best to look for a reputable motorbike dealer even if the price is slightly higher and inspect bikes carefully prior to rental. Be aware that motorcycle rentals do not include insurance and both motorcycling accidents and motorbike thefts are common. Also note that parking beside a "No Parking" sign will result in a fine of 400 to 500 baht. Finally, while helmets are required by law, closed toes shoes are recommended by common sense